Full 5 Stars from 850+ Guests On TripAdvisor
Experience the Thrill of Sea Kayaking on Gozo and Comino Islands €67pp
100% Customer satisfaction 

Kayak Gozo our the leading provider for the best Kayaking Tours in Gozo
Are you looking for the best way to Kayak Gozo Malta for an unforgettable adventure that combines exploration, relaxation, and excitement? Look no further than Kayak tours on Gozo and Comino Islands! Our tours offer the perfect balance of kayaking, discovering hidden spots, and unwinding on the crystal-clear waters of the Mediterranean.
During the Gozo kayak tour, you'll have the opportunity to discover hidden caves, rock formations, and bays that are not accessible by other boats. You'll also visit the famous Blue Lagoon of Comino Island, which is a short 20-minute Gozo kayak tour from Hondoq Bay. If the winds change course, we may also kayak along the more secluded north coast from Qbajjar Bay.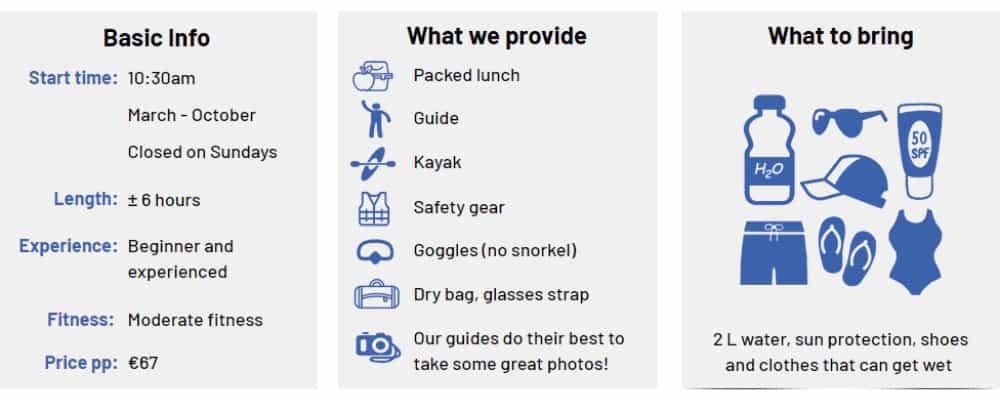 Relax and Unwind with Homemade Lunch
This tour is the best value of all tours Kayaking on Gozo and Comino islands. We provide a homemade lunch that includes a pasta salad, fresh fruit, and an energy bar, ensuring you have plenty of energy to enjoy your day. We're also happy to cater for special dietary needs, such as vegan, gluten-free, and nut-free, so please be sure to let us know in advance.
Securing your date and claiming your discount could not be easier!
[product_table id="2926"]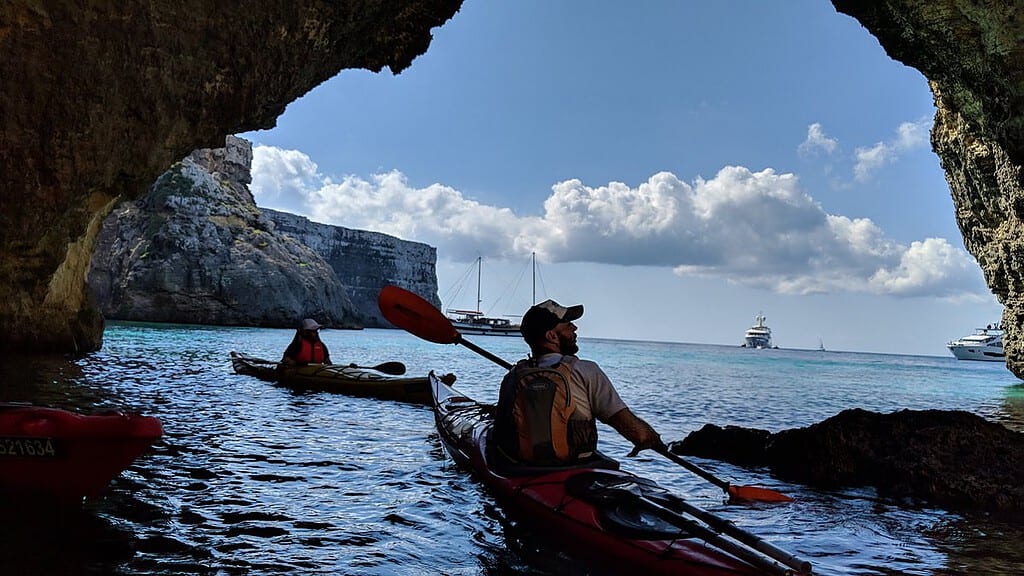 What to Bring
To ensure your comfort and safety during the tour, we recommend that you bring 2 liters of water, sun protection, and shoes and clothes that can get wet. Swimming is an optional unguided activity during the breaks, so you might also want to bring your swimwear.
Book Your Sea Kayaking Tour Today!
Are you ready for an exciting day out that you'll never forget? Book your sea kayaking tour on Gozo and Comino Islands today! With our experienced guides, stunning sites, and homemade lunch, you're sure to have an unforgettable adventure.
Frequently asked questions
Where do the tours start?
All Kayak Gozo tours almost always start at Hondoq Bay in Gozo. 
If the weather and winds are unfavorable, we sometimes start from alternate locations. They will let you know a day before your tour of where the intended tour location will be.
Do I need to know how to kayak?
No, all Kayaking in Gozo Tours are suitable for beginners. They will do their best to group people with similar abilities together.
Is there a guide with me the whole time?
Yes, the guide will greet you when you arrive and will stay with you until you are safely back on land.
During the breaks you may opt to go for a walk away from the group or to go for a swim. The guide will let you know what time you have to return.
Swimming during the breaks is an unguided part of the tour.
Will I have to share a kayak with a stranger?
No. In all normal circumstances you will always share a kayak with somebody from your group or you will be in a single kayak.
Must I be able to swim?
Yes, we require that everyone joining us on our tours must be able to swim.
If you are comfortable in the water, but do not swim well, then please contact Kayak Gozo and they can discuss with their head guide whether this is a suitable activity for you.
However, kayaking is a physical sport, so we suggest that you choose the length of your tour based on your level of fitness. 
Will I see the Blue Lagoon?
Most of our Half Day Adventure and Full Day Chillin' tours are Comino Kayaking Tours which is where the Blue Lagoon is. The crossing from Gozo to Comino is about 20 minutes and these trips normally include a stop nearby or a short paddle into the Blue Lagoon. Sometimes we are not able to go into the Blue Lagoon due to weather, or busy water traffic. Your guide will discuss this with you if that situation arises. 
If the tour launch location has to change to another area of Gozo due to weather/conditions then you will not see the Blue Lagoon. They will always let you know of any changes the day before your tour.
The Mini Coastal Explore tour follows the coastline of Gozo, so you will not see the Blue Lagoon by kayak during this tour. There is a shuttle boat service from Hondoq Bay that can take you by motor boat if you would like to explore Comino and the Blue Lagoon before or after your kayak tour.
Will I get wet?
Yes you will! You are likely to get splashed in the kayak during the tour and your feet will certainly get wet when climbing in and out the kayak. During the break Kayak Gozo weill provide you with goggles (not snorkels) so you are free to enjoy the beautiful crystal blue waters too. In the summer months you will dry very quickly in the sun, but we still suggest bringing dry clothes for after the tour. Early and late in the season we will provide you with a waterproof jacket to keep you nice and cosy if necessary.
Can I bring my phone/camera?
You are welcome to bring your personal devices/GoPros, etc. with you, but it is important to note that this is entirely at your own risk. They are likely to get splashed or dropped in the water so we recommend keeping them in a protective waterproof covering and attached to you with a lanyard.
On the Half Day Adventure and the Full Day Chillin' tours, your guide will take photos and we will send them to you free of charge the next day! The guides do their best to take great pics, but they are not professional photographers and their first priority is your safety. 
The guides do not take pictures on the Mini Coastal Explore,
What are you waiting for?
Your Gozo adventure awaits!
Experience the breathtaking beauty of the Maltese archipelago with Kayak Gozo, your ultimate destination for thrilling kayaking adventures. Join our Comino Kayaking Tour and discover the hidden gems of Gozo and its surrounding islands. With Kayak Gozo, you can indulge in the exhilaration of kayaking in Gozo's crystal-clear waters, exploring stunning sea caves, and marveling at the picturesque coastline. The expert guides will lead you on an unforgettable journey, showcasing the natural wonders of the area while ensuring your safety and enjoyment. Whether you're a seasoned kayaker or a beginner, Kayak Gozo offers an unparalleled opportunity to immerse yourself in the beauty of Malta's coastlines. Book your kayak adventure with Kayak Gozo Malta today and embark on a remarkable experience that will leave you with lifelong memories.
If you are planning to spend longer than a day in Gozo then do take a look at our properties page where you will find a range of small private farmhouses perfect for couples or small groups to stay in Gozo!
We Think It's About Time To Roam Gozo... Don't You?