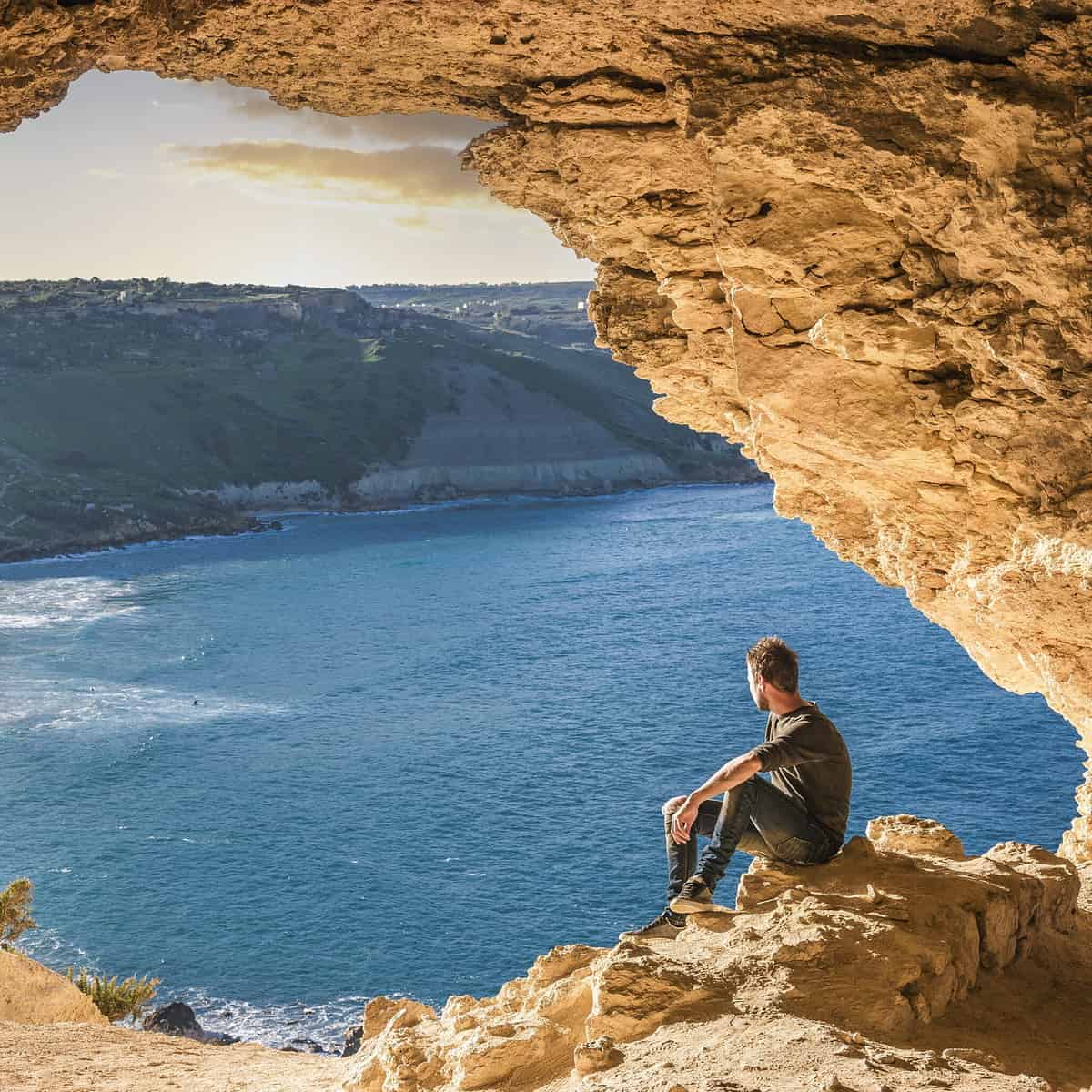 Welcome to our comprehensive guide to Gozo beaches! If you're a beach lover seeking a slice of paradise, you've come to the right place. In this blog, we'll take you on a virtual tour of the island's most stunning best beaches on Gozo, revealing the hidden coves, pristine sands, and crystal-clear waters that await you.
Whether you're seeking relaxation, snorkeling adventures, or simply a tranquil spot to soak up the sun, a Gozo beach has it all. Get ready to dive into our curated list of the best beaches in Gozo, complete with insider tips, captivating descriptions, and practical advice to make the most of your beach-hopping escapades. So grab your sun hat, slather on some sunscreen, and let's embark on an unforgettable journey along the idyllic shores of Gozo.
Gozo Beaches On The South
Quick Tip! If you don't want the wind, check the direction its blowing, and go to a beach the opposite side!
Nestled just a short distance from Roam, you'll find the captivating Mgarr Ix-Xini beach. This hidden gem is a true paradise, offering a serene escape from the bustling world. Embark on a leisurely walk along the scenic coastal path for approximately 2 kilometers (around 40 minutes), but please note that during the summer months, the heat can be intense, so it's best to plan your visit accordingly. As you make your way to Mgarr Ix-Xini, you'll be rewarded with breathtaking views of the valley, creating an idyllic setting for your beach day.
This enchanting location holds even more allure, as it served as the backdrop for the Brad Pitt film "By the Sea," adding a touch of cinematic charm. Dive into the crystal-clear waters, indulge in snorkeling adventures, or simply bask in the sun's warmth on the sandy shore. After a day of seaside bliss, treat yourself to a delightful culinary experience at the beachfront restaurant, renowned for serving some of the finest seafood delicacies on the island. Mgarr Ix-Xini beach promises an unforgettable day of tranquility and natural beauty, making it a must-visit destination during your stay in Gozo.
One of Gozo's hidden treasures is the tranquil beach of Xatt l-Aħmar. Nestled away from the crowds, this serene stretch of shoreline offers a peaceful retreat where you can relax and unwind. What sets Xatt l-Aħmar apart is its quiet ambiance, allowing you to escape the hustle and bustle of everyday life and immerse yourself in the beauty of nature. The beach is also complemented by a scenic coastal path, which invites you to take a leisurely stroll along the picturesque coastline.
As you meander along the path, you'll be treated to breathtaking views and eventually arrive at the charming harbour, where you can admire the boats and soak in the charming coastal atmosphere. Xatt l-Aħmar is the perfect destination for those seeking tranquility and a memorable seaside experience in Gozo. This beach also makes a great hike through to Mgarr harbour which can be found here.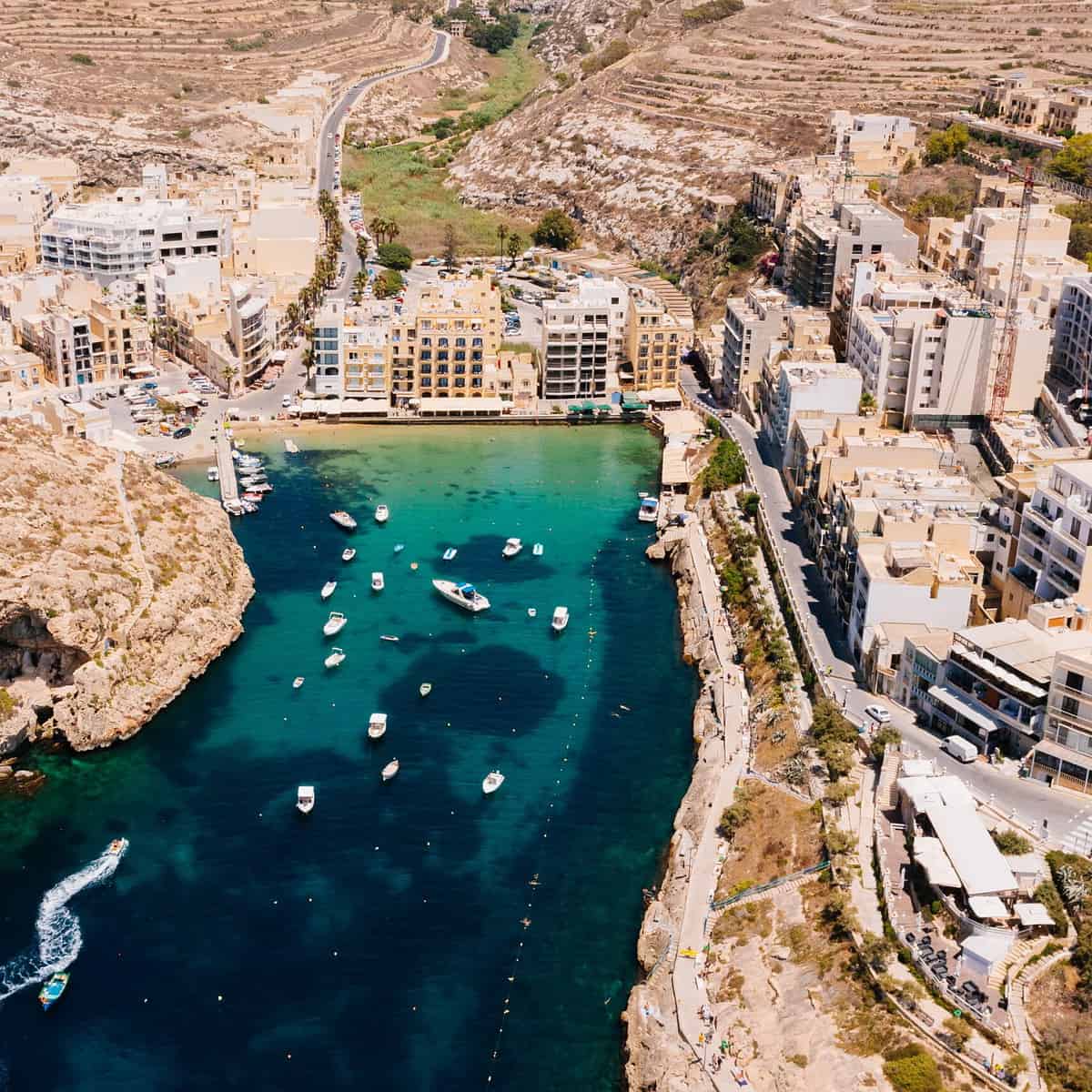 Nestled on the southwestern coast of Gozo, the iconic Xlendi Bay awaits you with its timeless beauty. This charming seaside village offers a picturesque setting that will capture your heart from the moment you arrive. As you approach this Gozo beach, you'll be greeted by a stunning horseshoe-shaped inlet adorned with rugged cliffs and crystal-clear turquoise waters. It's no wonder that this beloved spot has become a favorite among locals and tourists alike. Whether you're seeking a peaceful retreat or thrilling water activities, Xlendi Bay has it all.
Explore the underwater wonders through diving or snorkeling adventures, immersing yourself in the vibrant marine life and hidden caves. After your aquatic explorations, take a leisurely stroll along the waterfront promenade, lined with quaint restaurants serving delicious seafood dishes. With its captivating views, serene ambiance, and opportunities for outdoor recreation, Xlendi Bay is one of the best beaches in Gozo that will leave you with cherished memories of your visit.
For Bookings Kindly Follow
Nestled within the captivating beauty of Gozo, the Inland Sea is a unique and enchanting natural wonder that will leave you in awe. As you approach this breathtaking location, you'll be greeted by stunning distant sea views and the infamous Fungus Rock.  As This is the west of the island this destination offer the best spot for the perfect evening picnic to watch the sun set. The Inland Sea offers a truly immersive experience, allowing you to explore its wonders both above and below the surface. Take a boat trip and navigate through the narrow tunnel that connects the lagoon to the open sea, marveling at the impressive rock formations along the way.
If you're an avid diver or snorkeler, you'll be delighted to know that the Inland Sea boasts incredible underwater visibility, revealing a mesmerizing world of marine life and vibrant coral formations. After your explorations, take a moment to relax and soak in the peaceful ambiance while enjoying a delicious meal at one of the nearby waterfront restaurants. Whether you're seeking tranquility, adventure, or simply a unique experience, the Inland Sea is a must-visit destination that will leave an indelible mark on your journey through Gozo. 
Gozo Beaches On The North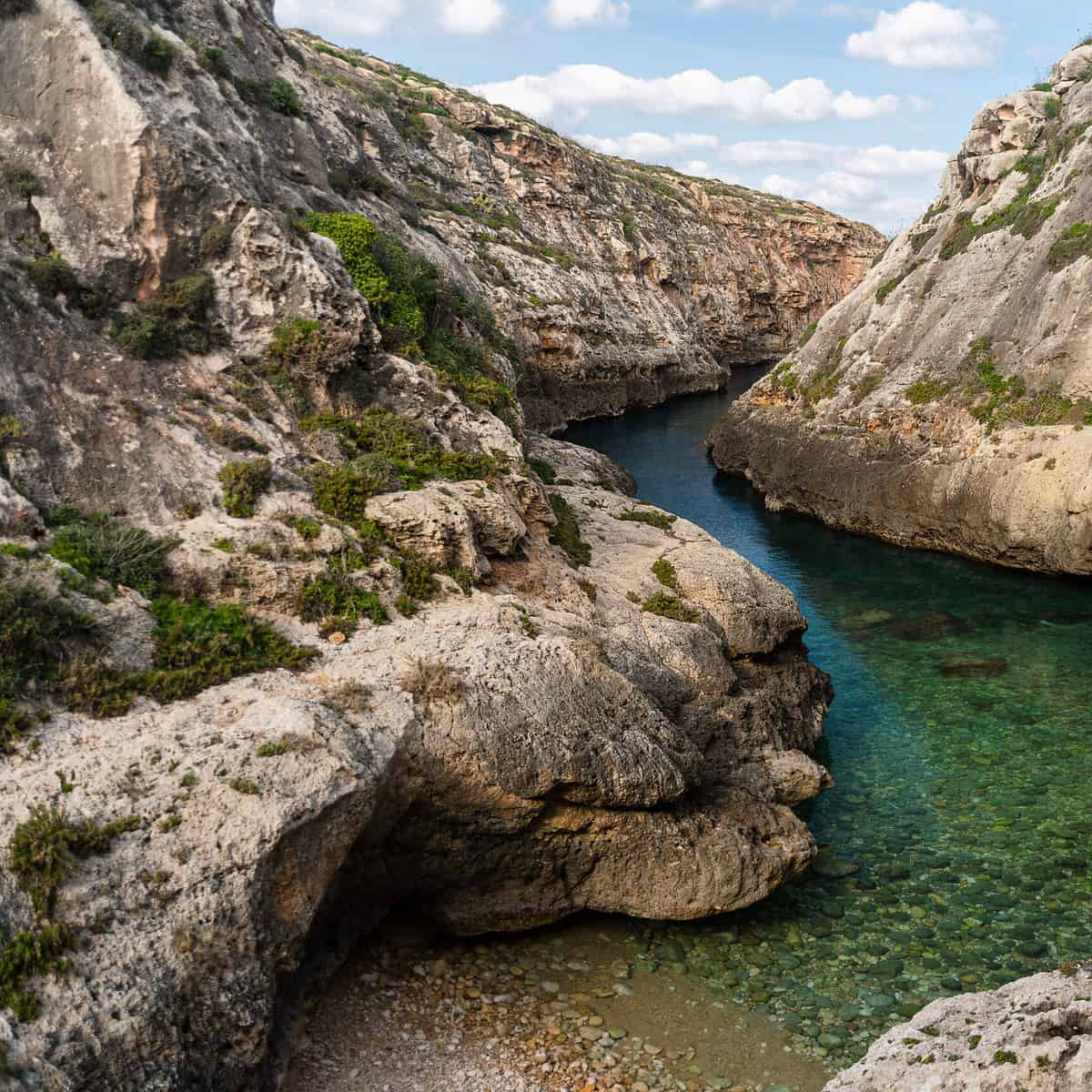 Located on the northern coast of Gozo, Wied il-Għasri is a breathtaking ravine that stretches from the outskirts of the village of Għasri to the crystal-clear Mediterranean Sea. This natural wonder is known for its dramatic cliffs, rugged terrain, and a narrow gorge that leads to a secluded pebble beach. With its awe-inspiring beauty and tranquil ambiance, Wied il-Għasri has become a must-visit destination for those seeking a unique and unspoiled experience in Gozo.
At the heart of Wied il-Għasri lies a secluded pebble beach, nestled within the ravine's embrace. This secluded cove offers a serene and unspoiled retreat, away from the bustling crowds. With its crystal-clear waters, it beckons visitors to indulge in a refreshing swim or simply bask in the sun's warm embrace. The calmness and seclusion of the beach create an intimate atmosphere, perfect for unwinding and reconnecting with nature.
Xwejni Bay is a hidden gem waiting to be discovered. If you're looking for a serene and secluded beach experience, Xwejni Bay is the perfect destination. The bay's untouched beauty and tranquil atmosphere make it an ideal spot for sunbathing, swimming, and simply unwinding amidst nature's splendor. The surrounding cliffs offer a sense of privacy and seclusion, creating a peaceful oasis away from the crowds. Xwejni Bay is also known for its unique salt pans, where locals harvest sea salt using traditional methods. Take a leisurely stroll along the coastline and witness this fascinating process, while enjoying the refreshing sea breeze and stunning views.
For those seeking adventure, Xwejni Bay is a gateway to underwater exploration. Grab your snorkeling gear or diving equipment and immerse yourself in the vibrant underwater world teeming with marine life and colorful corals. After a day of relaxation and exploration, satisfy your appetite with a delicious seafood meal at one of the charming restaurants overlooking the bay. Check out the Crabshell Kiosk for Live music on Wednesday nights and weekends!
Located on the northern coast of Gozo, Marsalforn is a lively and charming seaside village that attracts visitors from near and far. With its stunning views of the Mediterranean Sea, Marsalforn offers a unique blend of natural beauty, leisure activities, and a vibrant atmosphere. The bay is framed by a picturesque promenade, where you can take leisurely walks and soak in the coastal scenery. Marsalforn is known for its sandy and pebbly beaches, inviting you to bask in the sun or take a refreshing dip in the azure waters. The village is a hub of activity, offering a wide range of water sports such as kayaking, paddleboarding, and jet skiing for those seeking adventure on the waves. You can also explore the underwater world through diving and snorkeling excursions, revealing a vibrant marine ecosystem filled with colorful fish and fascinating marine formations.
Marsalforn's waterfront is dotted with a variety of restaurants, cafes, and bars, where you can indulge in delicious local cuisine, including freshly caught seafood dishes. The village also boasts a bustling market, where you can browse local crafts, souvenirs, and fresh produce. As the sun sets, Marsalforn transforms into a lively nightlife scene, with live music performances and bustling bars to keep you entertained. Whether you're seeking relaxation, adventure, or a taste of Gozitan culture, Marsalforn has something for everyone. Immerse yourself in the vibrant atmosphere and embrace the coastal charm of this delightful village on your visit to Gozo.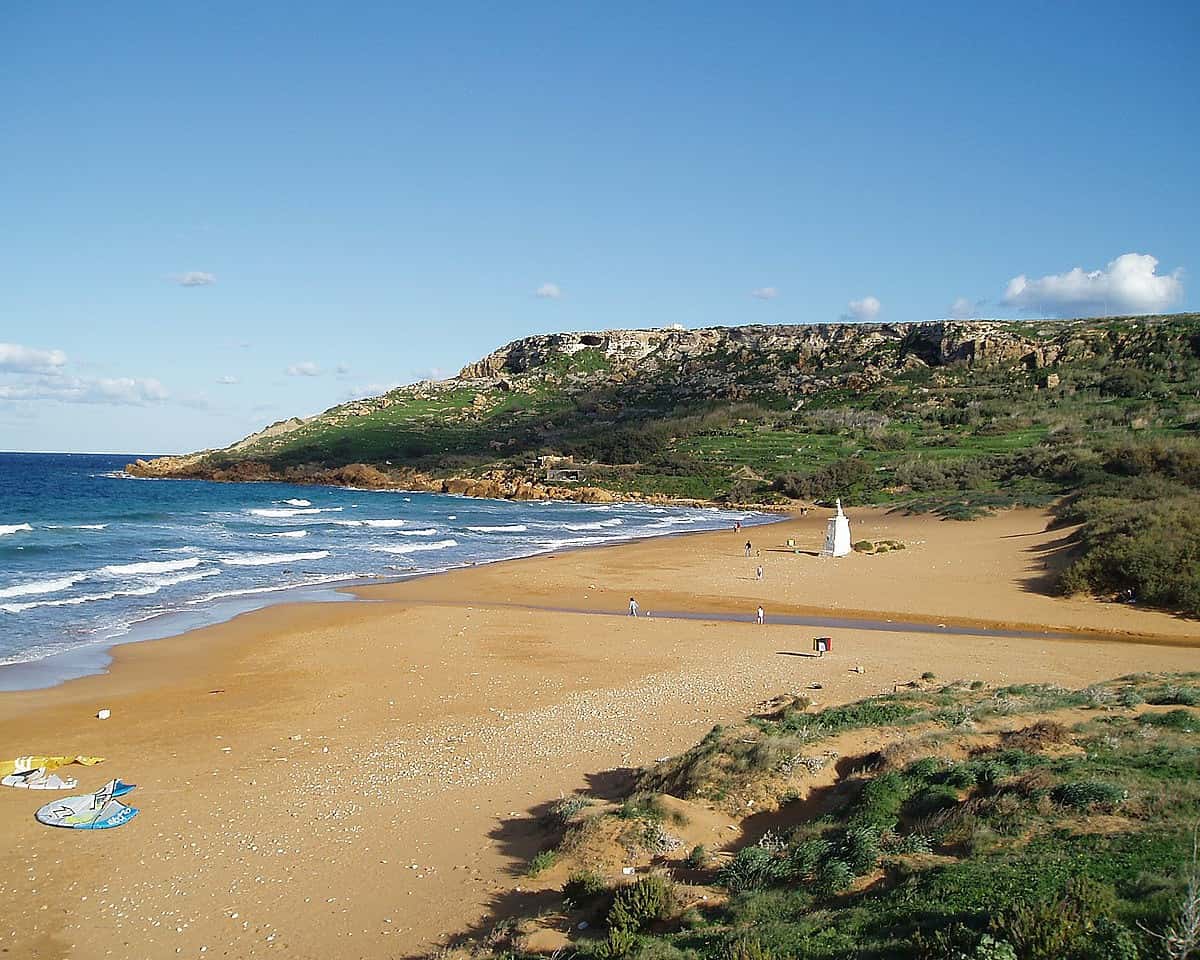 Ramla Bay, often referred to as "the jewel of Gozo," is a magnificent beach that captivates visitors with its natural beauty and unique characteristics. Located on the northern coast of the island, Ramla Bay is renowned for its distinctive reddish-golden sand, which contrasts beautifully with the crystal-clear turquoise waters of the Mediterranean Sea. As you approach the beach, you'll be greeted by the mesmerizing view of the surrounding hills and the imposing Calypso's Cave perched on the cliffs above.
Ramla Bay offers a wide stretch of soft sand, making it an ideal spot for sunbathing, building sandcastles, or simply relaxing under the warm Gozitan sun. The shallow and calm waters create a safe environment for swimming and paddling, making it suitable for visitors of all ages. Snorkeling enthusiasts will also be delighted by the underwater world teeming with marine life, providing a fascinating glimpse into Gozo's rich biodiversity.
Ramla Bay is not just a beach; it's a destination in itself. Surrounding the beach, you'll find a few beach kiosks and cafes offering refreshments and snacks, allowing you to enjoy a leisurely picnic while admiring the stunning views. The beach is also equipped with facilities such as sunbed and umbrella rentals, as well as public toilets and showers for your convenience.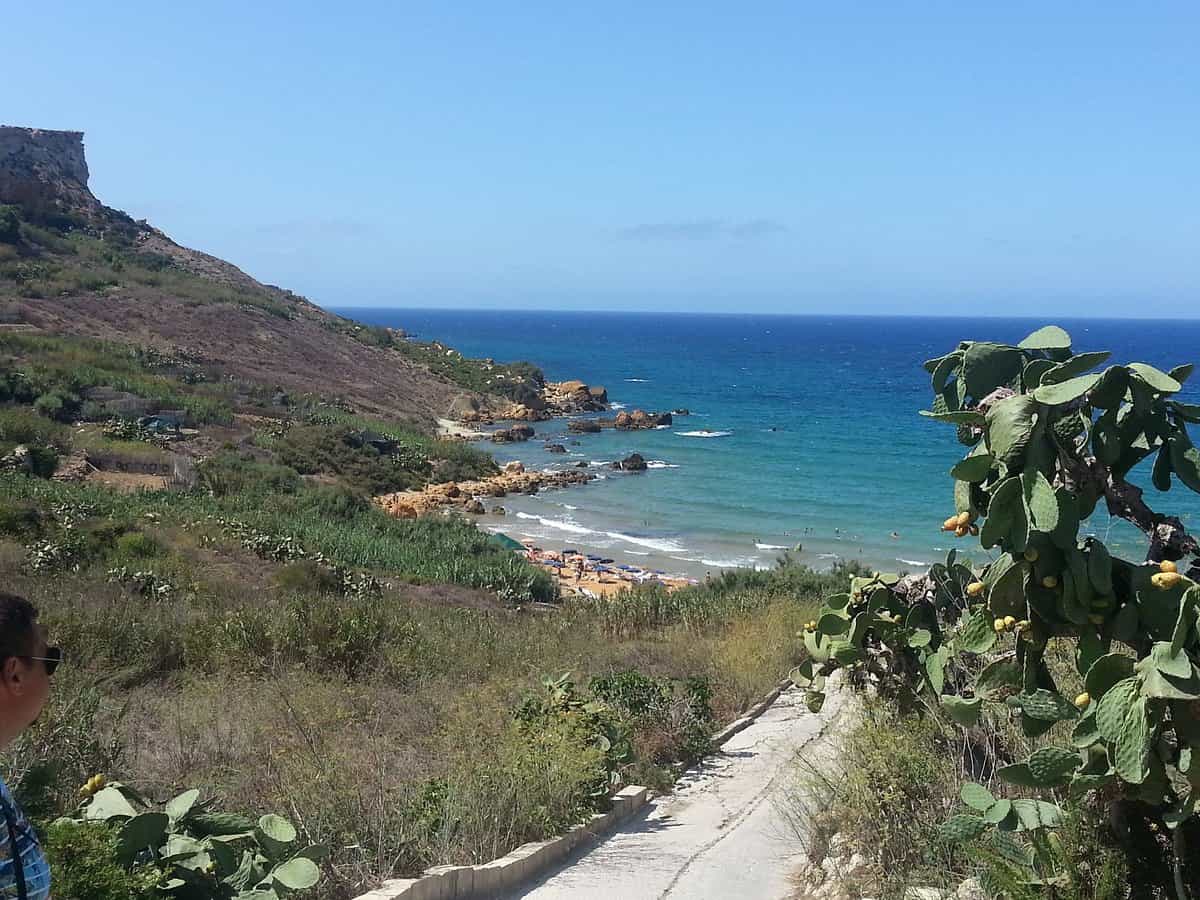 This Gozo Beach is on an extremely steep hill nestled on the northern coast of Gozo, is a secluded paradise that offers a tranquil and untouched beach experience. Tucked away in a picturesque valley, San Blas Bay boasts breathtaking natural beauty and a sense of serenity that will leave you captivated. To reach this hidden gem, you'll embark on a scenic journey through winding roads and rustic landscapes, adding to the anticipation of what awaits. As you descend into the valley, you'll be greeted by the mesmerizing sight of San Blas Bay's pristine golden sand and the crystal-clear azure waters of the Mediterranean Sea. Please note that this beach can change from rocks to sand depending on the weather.
What sets San Blas Bay apart is its unspoiled and uncrowded ambiance. Far from the bustling tourist spots, this secluded beach offers a serene haven where you can relax and unwind in peace. The calm and shallow waters make it an ideal spot for swimming and snorkeling, allowing you to explore the underwater world and discover its hidden treasures.
As you soak up the sun on the soft sand, you'll be surrounded by the stunning natural surroundings. The rugged cliffs that enclose the bay provide a dramatic backdrop, creating a sense of seclusion and intimacy.  While San Blas Bay lacks extensive facilities, this is part of its allure. It's an opportunity to disconnect from the fast-paced world and immerse yourself in nature. However, a small beach kiosk offers refreshments and snacks, ensuring you have the essentials for a delightful day at the beach.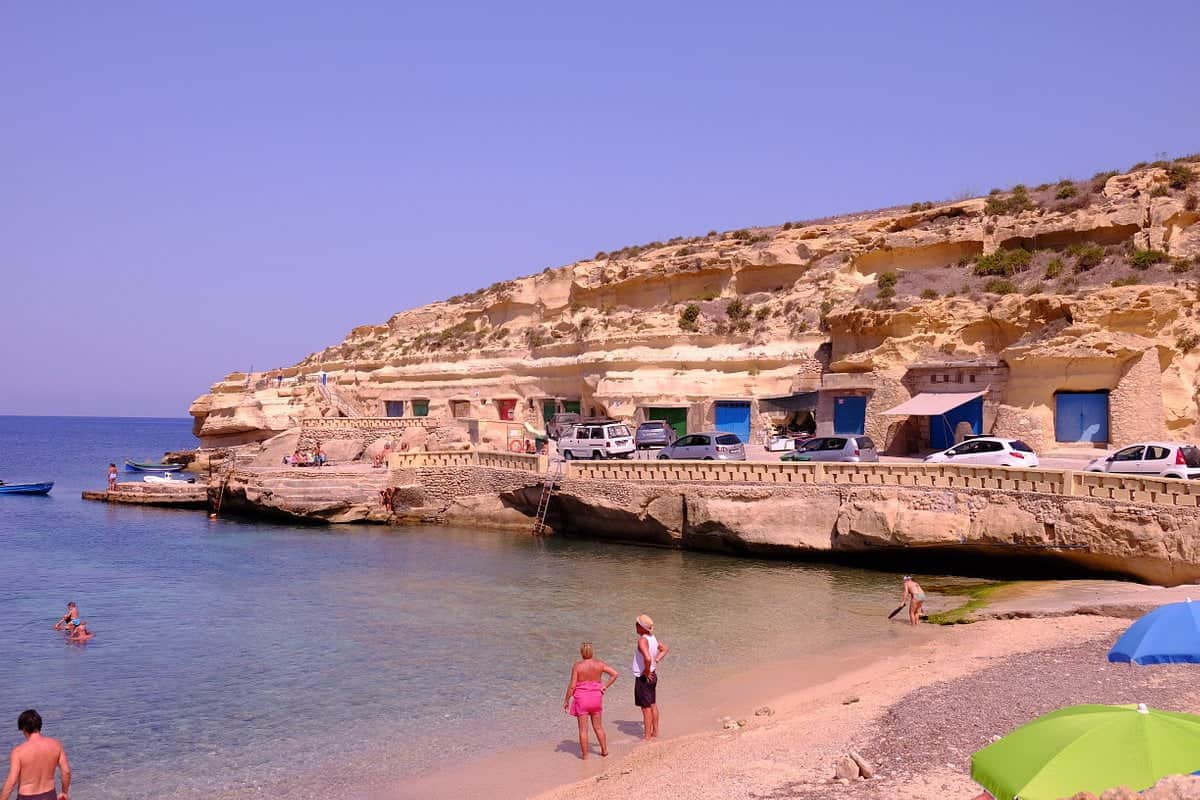 Dahlet Qorrot, a charming bay tucked away on the northeastern coast of Gozo. This quaint and picturesque bay is a hidden gem that exudes a sense of tranquility and authenticity. The bay's small pebble beach invites you to relax and soak up the peaceful atmosphere, while the gentle lapping of the waves provides a soothing soundtrack to your visit.
Admired very much by the locals, Dahlet Qorrot offers a glimpse into the slower pace of life in Gozo, allowing you to immerse yourself in the island's natural beauty and genuine hospitality. Whether you spend your time lounging on the beach, engaging with the local community, or exploring the underwater wonders, a visit to Dahlet Qorrot promises a peaceful and enriching experience that will leave you with lasting memories of Gozo's charm.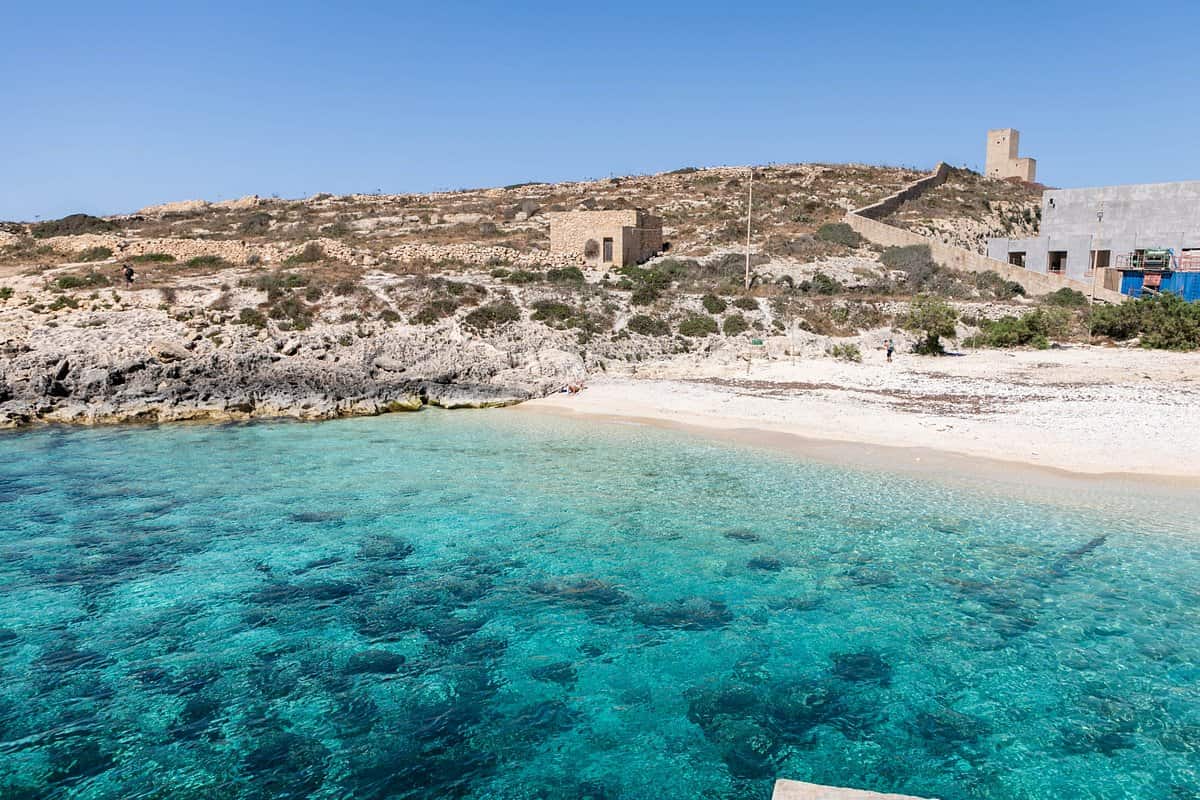 Hondoq Bay, nestled on the eastern coast of Gozo, is a hidden paradise that captivates visitors with its untouched beauty and serene atmosphere. As you arrive at Hondoq Bay, you'll be greeted by a breathtaking panorama of the blue lagoon and Comino. One of the highlights of Hondoq Bay is its pristine underwater world, making it a haven for snorkelers and divers. Grab your snorkeling gear or scuba equipment and explore the vibrant marine life that thrives beneath the surface. Immerse yourself  as you encounter fascinating coral formations, schools of fish, and other intriguing sea creatures. For those seeking adventure, Hondoq Bay offers various water sports activities. Embark on a kayak excursion, paddling along the tranquil coastline and exploring hidden caves and coves. Or hop on a boat tour and discover the nearby Comino Island, renowned for its stunning Blue Lagoon.
If you prefer a more relaxed pace, find a shady spot beneath the trees that fringe the beach and savor a picnic with loved ones. As you indulge in a delightful spread of local delicacies, soak in the panoramic views of the bay and the islet of Cominotto in the distance.
Hondoq Bay is not just a feast for the eyes but also for the taste buds. Visit one of the beachside cafes or restaurants, where you can savor the flavors of Gozitan cuisine. Treat yourself to fresh seafood dishes, traditional snacks, or a refreshing drink while enjoying the peaceful ambiance and spectacular vistas.
We Think It's About Time To Roam Gozo... Don't You?
As we conclude our journey through these beautiful Gozo beaches, we hope you've been inspired to embark on your own coastal adventures. From the golden sands of Ramla Bay to the secluded coves of San Blas and the picturesque beauty of Mgarr ix-Xini, Gozo offers a diverse range of beach experiences to suit every traveler's taste. Whether you seek relaxation, exploration, or thrilling water sports, the island's pristine shores await your arrival. Soak up the sun, dive into the crystal-clear waters, and let the enchanting ambiance of Gozo's beaches captivate your senses. As you create cherished memories on these coastal gems, remember to embrace the tranquility, marvel at the natural wonders, and immerse yourself in the unparalleled beauty of the best beaches Gozo has to offer.
As there are so many Beaches on Gozo, we always suggest spending at least 3 nights in Gozo to enjoy all the beaches in Gozo. If you are looking for a property to rent for your Gozo adventure please check out our properties here!